Why We Love It:

This is yet another adorable and free app that we love. To play, the child taps on a bongo drum or hits keys on a xylophone to make her own rhythm or song. Then the monkey will imitate the exact song the child played. This can be a great tool for children learning cause and effect. We also use this with older children who are working on motor planning and timing. You can tap out a short rhythm, the monkey will imitate it, and then your child can attempt to recreate the same rhythm.
Why Kids Love It:
As you play your song or rhythm, the monkey will smile, clap and dance which engages the children. After a long song, or several shorter ones, a banana falls from the tree and the child can feed it to the monkey. He might launch it into the air or catch it in his mouth. Feeding the monkey bananas earns points to unlock other characters, instruments or accessories.
Available: iTunes FREE or Monkey Drum Deluxe (instruments and characters unlocked) $3.99
Why We Love It:

This adorable app involves a kitten that goes to the grocery store with a list and a budget.  Play begins as the kitten's mother gives him a list and a specific amount of money. If the kitten can get all of the items with savings left over, he can go to the toy store and pick out a reward. The game addresses many areas, including cognitive processes such as reading the list, recognizing price differences, placing food into categories, and the concept of keeping under a budget. Also addressed are visual perceptual skills, visual memory skills and fine motor skills. The shopping list can be hidden as the cat walks down the aisles, encouraging the child to remember what food item he is looking for. The list is not categorized, which requires the child to carefully scan the entire list for all of the vegetables, meats, etc. Each food item is available at 2-3 price points and there is a sale section as well. The app does all of the math calculations but the challenge could be increased by giving your child a pencil and paper to keep a running total, then compare it to the cashier's total at the end of the shopping trip. Although there is lively background music, it can be turned off. We have found that children of a wide age range love this app. Younger children benefit from the reading and scanning practice, while older children learn money management, budgeting, and the benefit of using an organized plan in a store.
Why Kids Love It:
Children love being able to complete "grown up" tasks. This app allows them to be responsible for money and pick out a toy for the cat. The animations are clear and colorful and the children enjoy the scavenger hunt to find each food item.   Having your child help categorize and locate food items during a real trip to the grocery store is a great way to carry this over into a functional skill.
Available: iTunes FREE
Why We Love It: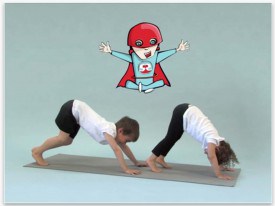 This is a great introduction to 12 simple yoga poses. Super Stretch is a yoga superhero who guides the children through each movement. Each pose is described in kid-friendly, positive language, then a video is shown of real children — not actors with perfect form — as they attempt the poses. The sequence moves from alerting movements with head inversion, to organizing movement with flexion and static positions.
Why Kids Love It:
Super Stretch is narrated by a young boy with an energetic voice. The cartoons representing each pose, such as an elephant dipping his trunk in water, are easy to carryover into the movement. The fact that the app developers used children who look and act like peers learning the movements is empowering for children who struggle with balance and coordination.
Available: iTunes FREE, Also available in Spanish
Why We Love It:

Do you have a child heading to middle school next year? This app is a great tool to teach the process of opening a combination lock. The whole purpose of the app is to use a combination lock to open a locker or safe. Initially, the combination is set up with numbers that are simple to locate on the dial. Then the child works up to locating harder digits. Although a real combination lock is a bit easier to turn, the option to simplify the combination helps keep the kids from becoming overwhelmed and giving up.
Why Kids Love It:
Middle school is a big change for our kids at the clinic, and they seem to get a real sense of pride about mastering the art of combination locks. The app uses a timer to track how long it took to open the lock, so the kids can try to beat their best score. The timer is not visible on the screen during the unlocking process, so there is no distraction or sense of pressure for the task. To keep the kids engaged in what can be a tedious practice, there is an option to place a picture from your device's camera roll on the inside of the locker as a surprise and motivator.
Available: iTunes Store $0.99
Why We Love It:

Little Finder is a more structured take on classic hidden picture activities. The images are presented in a grid, ranging from 2×2 to 7×8, and a friendly voice calls out the name of an image for the child to locate. If the child takes more than 5 seconds to click on the item, it begins to subtly bounce to provide a visual cue. Points are awarded for the speed of finding each item. The game can be set for 1 minute, 2 minutes or an untimed "zen" mode. The pictures are high quality images of animals, food and household items on a plain white background. As with all of the products from Alligator Apps, the settings provide a wide range of challenges that can be customized for the child such as the level of cues, the option to rotate some of the images for an additional challenge, or even customizing the audio cues for the image.
Why the Kids Love It:
If traditional hidden picture activities are difficult for a child, the additional visual structure of this app is very helpful. Many children who have a hard time focusing on a task for a prolonged period appreciate the short, timed rounds. As always, the ability to earn points and beat the high score is highly motivating. The game can also be played as a two-player head-to-head activity to see who comes out on top.
Available: iTunes FREE
Why We Love It:

This engaging app brings the classic Mr. and Mrs. Potato Head to life.  The app recently changed its interface and got rid of the need for in-app purchases.  Your child can pick from 26 different outfits and 13 different play scenes.  Just like the real Mr. Potato Head, your child must choose where to place the body parts to assemble the character.  After the characters are built, your child picks the scene where she can make the Potato Head characters jump, dance and interact with the scenery by pressing buttons on the screen. This app reinforces correct placement of facial features and symmetry in body scheme.  The child can work on finger isolation when dragging and dropping the body parts on to the character.  To practice correct pencil grasp, have your child use a stylus intended for a touch screen device.
Why Kids Love It:
The variety of options for outfits is a major draw.  The characters' antics within the play scenes maintains a child's attention, and they love the option to take a "snapshot" of their Potato Head in action.
Available: iTunes $2.99
Why We Love It:

This app allows you to customize a story utilizing pictures you have taken from your iPad or iPhone. The types of stories that can be used are sequential stories that incorporate specific steps needed to complete tasks, review of past events to share with others, and pictures within the story that help teach specific concepts. An example of a sequential story would be showing the steps needed to brush teeth. The child can be the "actor" for the story and can then utilize appropriate expressive language skills to describe the story. An example of reviewing past events would be to take pictures of your child at the event. The child can then share what happened by describing the pictures and showing them to another person. This app can also help teach specific concepts by taking pictures of specific verbs in action, prepositions (i.e. the book is on the table and the blanket is on the bed).
Why Kids Love It:
They get to be the "star" of their own personalized books. Children can make greater connections to the activity because they have such a big role in it's creation.
Available: iTunes FREE
Why We Love It:


These apps are some of the best white noise apps we have found. While there are many white noise apps on the market, it is rare to find a free app that allows you to layer sounds together. These apps have relaxing melodies that can be paired with sounds from nature, such as ocean waves, birds chirping or underwater bubbles. Both apps are supported by ads, however premium versions, which feature ad-free screens, timers and additional sounds, are available. Many children who are easily distracted by auditory input may benefit from using a white noise app with a steady, constant level of auditory stimuli while completing work or while falling asleep. We also use these apps when creating a quiet, cozy place for a child who is dysregulated.
Why Kids Love It:
These are not apps that children at our clinics tend to specifically request, however we utilize these types of apps as tools in the child's sensory diet. Just as vestibular and proprioceptive activities are often components of a sensory diet, the auditory system is a powerful tool to help a child become more regulated. Older children enjoy choosing sounds and music to layer and experiment with how some types of sound are calming and other sounds are alerting.
Available: iTunes: FREE; Premium Edition $0.99
Android Market: FREE; Premium Edition $2.99
Why We Love It:

This is a great (free!) app to teach phone skills starting from the very basics how to hold a phone, dialing and hanging up, when to call 911, and safety when talking to strangers on the phone. There is a customized memory challenge where you can input your home phone number or any other number your child needs to memorize. Perhaps the best part of this app is the practice and challenge levels that actually walk your child through the steps involved in dialing a number and talking to someone at home or to a 911 operator.  The buttons are large and easy to tap correctly and the sound effects are realistic. The app is narrated by a woman with a clear, friendly voice, and the script reads much like a social story.  This is a great tool for children learning phone skills and phone safety.
Why Kids Love It:
The narration is clear and the visuals are simple without being too childish. This is not an app that kids are going to beg to play, but once they start using it they tend to stay engaged.
Available: iTunes FREE
iPad Tip for Fine Motor Success
Touch screen electronics can be a great learning and communication tool, but if a child has difficulty isolating their index finger, they often inadvertently activate ads on the screen or make mistakes by tapping the wrong place, which can quickly become quite frustrating. Here's a mom's simple solution: take a child-sized glove and cut off the end of the index finger. The fabric of the glove will keep the other fingers and the rest of the hand from accidentally activating the screen. We have tried it here at the clinic and it really works. Great idea!
http://niederfamily.blogspot.com/2012/03/necessity-is-mother-of-invention.html